Registration
SPSympo-2023 will be held in parallel with the OSA-2023 and PGSCA2023 conferences. Registration for SPSympo-2023 in the Conftool system also allows to attend all sessions of these conferences.
AUTHOR REGISTRATION GUIDELINES
An accepted paper will be published in the proceedings only if the registration payment for at least one of the Authors is received and correctly processed by 12 June 2023, and the Author will attend the Conference to present his/her paper. If the paper is submitted to the YSC Contest the first Author of the paper should present the paper by himself/herself.
Link to register: https://www.conftool.net/spsympo2023/
If you already hold an account in the ConfTool system, log in with your user name and password under "Registered Users". To start the registration process, please click on "Register as Participant" on the overview page of your ConfTool account, and then follow several steps of the registration process.
To register for tutorials, log in, and you should see the main pane. Go to 'My Agenda' (see below) and mark topics of your interest.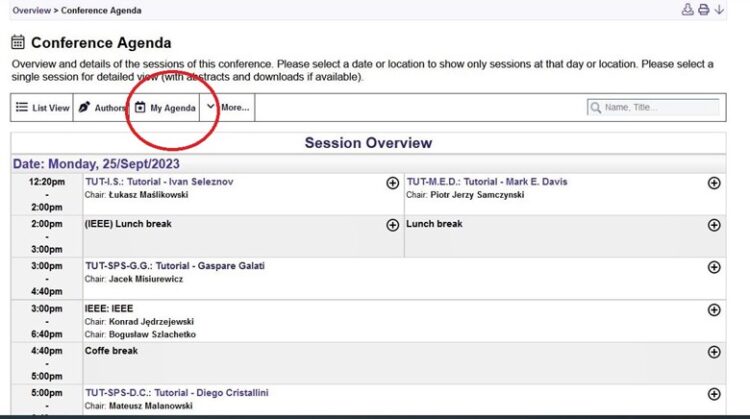 ACCOMMODATION IN KARPACZ
PLEASE NOTE: Registration for the conference does not include a hotel reservation. Booking and payment should be done directly at:
Sandra hotel (which is the conference venue https://www.sandra.karpacz.pl/en) or
any accommodation place from many available options in Karpacz (accommodation selection)
For the Sandra hotel: the cost of one night stay in a double room is PLN 222 gross (~50 EUR). The surcharge for a single room is PLN 80 gross (~20 EUR) for one night. These prices and the feasibility of booking the accommodation in Sandra hotel are guaranteed with a CODE-NAME: SPSympo2023.
The hotel fee includes accommodation, buffet breakfast, and a parking space. Check-in begins at 15:00 (3 PM) on the day of arrival and ends at 11:00 on the day of departure. On the day of departure, luggage storage facilities will be available until the time of your leaving.
These prices also apply if you decide to arrive earlier before- or stay longer post-conference. Just submit the dates of your planned stay during booking and mention SPSympo-2023 as a reference.