New signal processing challenges in Defence applications
Prof. Fabrizio Berizzi (University of Pisa | EDA, Italy)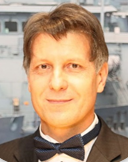 Fabrizio Berizzi was born in Piombino (Italy) on 25-th of November 1965.
He is a full professor at the University of Pisa currently suspended since May 2018 to be a temporary agent of the European Defence Agency (EDA) with the role of Project Officer of Electro-Optical Sensors Technologies.
He has been an IEEE senior member since 2006. He has been the Italian Academic national member of the NATO SET panel member from April 2014 to April 2018. He has been the head of the Radar Laboratory of the University of Pisa (Italy) for 15 years and the Director of the Radar and Surveillance System (RaSS) laboratory of the CNIT (National Inter-university consortium for Telecommunication) in Italy for 3 years. His main research interests are in the field of radar system design and signal processing and specifically in radar imaging (SAR/ISAR/InSAR,3D imaging), polarimetric, passive, Over the Horizon, multichannel/multistatic, cognitive radars, image enhancement and processing technique, EO counter (counter) measure systems and active imaging. He is the author of more than 100 papers in prestigious international journals and co-authors of 5 books.